Understanding the Customer In-Depth — 5.01
This blog will focus on understanding customers in-depth, and what it takes. In our book, we differentiate between customer orientation and understanding the customer in-depth. This blog explains how they differ from each other.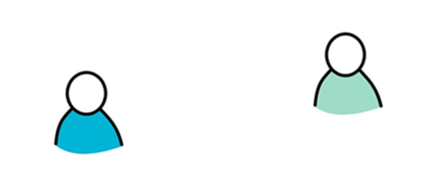 Let's think about the term customer focus. What is it exactly? It's a good term, and it means that we focus on the customer, like if we observe something with binoculars or through a magnifying glass. The key is to have the correct type of focus that fits your situation. Your situation brings requirements, and they need consideration. You may think this feels trivial, but it is very tough to make an organization understand the customer on a deep level in my experience.
Customer perspective inside-out
Very often, the organization puts focus on delivering a particular product or service to the customer. It is an inside-out approach, which is not a customer-focused approach. There's another way to do this.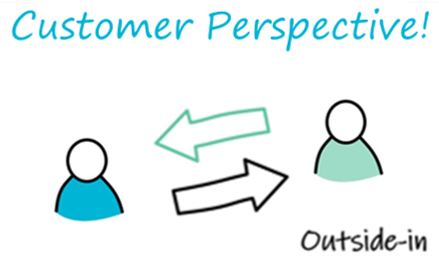 Customer perspective outside-in
Here is an example of the alternative way that we think is the better way to this. What if it was possible to get access to information the customer sees the situation? Documentation is the bridge that allows us to achieve a deep level of customer understanding. We have analyzed the customer to such an extent that we have produced written material about it. Let's think about your business for a bit. How much documentation do you have about your products? How much documentation do you have about your customer? Is the ratio a 50-50 split? Perhaps 30-60, or 10-90?
The goal you should aim for (in our opinion) is to conduct your business from an outside-in perspective. Take time to think about how the things you do genuinely help your customer? What is the Purpose of your activities? How does everything translate into practice? How do you turn everything into a great offer that is highly beneficial for your customer?

Let me tell you how I arrived at these conclusions. Here's the story. The business world invented process thinking in the mid-'80s, which was a huge sensation at the time. Before process thinking came about, everything was about operations. We had sales, product development, and production, and everything took place in-house. The management did not group people into silos, nor did anyone think about how the operative work flowed to the corporation's customer.
Then the business world invented the term target group. The target group is a term that represents this way of thinking very well, the paradigm, if you will. Target groups, as a term, describe this way of thinking so well that it inherits the flaws of the paradigm. You can see it as a soft spot. One of the weaknesses is that the customer gets seen as a target! It's a bit like looking at the customer through a hunting rifle scope while aiming at the customer's forehead. People are not game to be hunted. If you think of people like this, then you should seriously re-evaluate how you perceive reality. 
When intelligent people drew this whole chain of thought into a single coherent picture, people realized how things worked in the organization. People also saw the things that weren't working because they were now plainly visible on paper. People marked the problems with red flags, and then they began fixing the issues. However, there was still one big mistake in this thinking process. The other side is missing. What side, you ask? The customer's side.
The Zipper model – Two processes meet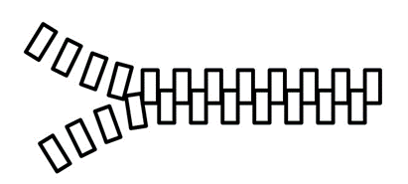 A new realization took place in the mid-'90s. There were two processes! The other side of the process became known as the customer's side. Intelligent people connected these two processes like the zipper in a Ziplock. During this time, I was pioneering and created the zipper model. Let's look at this model in greater detail. Here is the zipper model: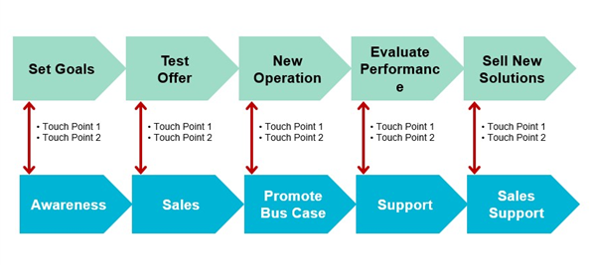 As you can see, it takes our and our customer's processes into account. The process steps get paired. They connect at specific meeting points, also known as touchpoints. I have created zipper models for clients hundreds of times over the years. This model has continuously improved over the years by becoming ever more hands-on and straightforward. Simplification is at the very heart of the Stradigo brand, our way of doing.

It's a joy to see how fast we can pull the information from the professionals' heads.
Usually, this process begins with the customer defining their goals, and we try to make them aware. We do this so the customer would understand we can help them realize these goals. If the company likes the approach, we can start building the zipper. By creating the zipper, the customer's business improves.
When the customer's process gets drawn as a zipper model, the challenge becomes how to focus on the right things. Customer processes can get drawn out as very vast chains. However, it is impossible to serve the entire customer process from start to finish. The purpose of a business is not to do everything, and it cannot do it. Very few companies could feasibly even attempt to serve everything. It takes too much money, effort, and business size to be a realistic prospect for most. That is why an organization strives to respond to and solve a specific part of the customer's process. 

Here is something fun to think about: What is the difference between a worry and a need? I realized that these two words are the opposite sides of the same coin. They address the same phenomenon. I'm sure I have given hundreds of presentations about this, asking people to think about the difference between these two words. Many good answers exist, but one, in particular, is particularly helpful: A Need is an answer to a worry.
Here's an example. If I'm thirsty, thirst is my worry. But what is my need? What is the answer to thirst? It could be an ice-cold beer or a glass of water.
Every salesperson has an inherent desire to make the customer happy and satisfied. Salespeople think with their common sense and conclude that the customer's needs must be satisfied. How does one get to know the customer's needs? Once again, the salespeople begin to think with their common sense. LET'S ASK THE CUSTOMER!
At that very moment, people don't notice that they are delegating the responsibility and competence to answer the client. Because the need is the answer, the customer's know-how and capability to answer limit what they can tell you at any given time. The salesperson likely is far more competent to provide an answer than the customer.
We have concluded that instead of asking about the customer's needs, we must listen to their worries. Then, the salesperson takes responsibility and presents the potential customer with something that solves the concern, which may interest them.
If the customer knows their needs, they are often a bit old-fashioned. They don't know about our newest tricks. That's when you can say:
"Sure! We can do things that way, but you might be interested in this. This is our new way of doing that.".
Then the customer becomes interested and wants to know more about the solution you mentioned.
Customer's worry – Your solution
Take responsibility for the customer's needs! A worry hides a question. If you want to be an expert, this is what you do: Every time a customer asks you about anything, you immediately, after a meeting, try to figure out a way to solve that worry. You could present them with a sales pitch that provides an answer to that worry. By refining the pitch, you end up with something that doesn't even look like a pitch. It behaves like a meeting where you help solve the customer's worry. They worry; you have a solution to it. If you match, an opportunity to work together presents itself. The fewer questions the engaged potential customer has to ask you, the better your presentation is. You keep refining your presentation until you don't get questions.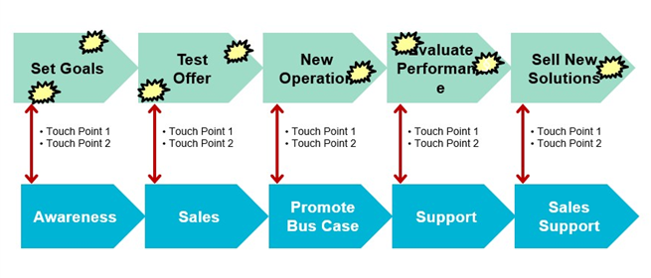 Here comes the important thing with the zipper. The approach is something that can be considered new. We hadn't realized it back in the 1990s. I think this is solid. The point is this. When the customer goes through their process, they regularly bump into situations where they realize they could use help. They stop and either try to work things out by themselves or ask for help from a professional. Solving things by themselves takes however long it takes and gives them the quality that matches their current know-how. The result can be much worse than what a professional could achieve, yet the Dunning-Kruger effect or some other reason may compel them to do it by themselves. Just because the customer can do something a certain way doesn't necessarily mean it's the optimal decision.
When these situations get identified, the customer's process crystallizes and simplifies. We have identified many problem situations while interacting with our customers, and I can say as of this moment that there seem to be around 15 situations. When we know what they are, we give them a name.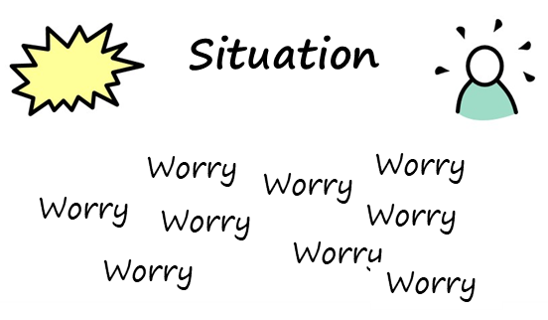 The customer is sweating when they have loads of worries in one situation. We, however, have been hearing these same worries year after year. I always joke about pulling these worries and situations out of the customers' heads with tongs.
A professional has met many customers and heard many worries. The professional knows these worries better than the customer because they have met many people going through the same situations.
It might be the first time the customer is running into this situation. So, how would they know all the answers to this situation if it is their first time? They will identify a few questions immediately, but the professional might know 30 more worries waiting behind the corner. Identifying these situations is very important and helpful! Because then the salesperson can offer a better solution to the potential customer's problem!
Understanding the customer in-depth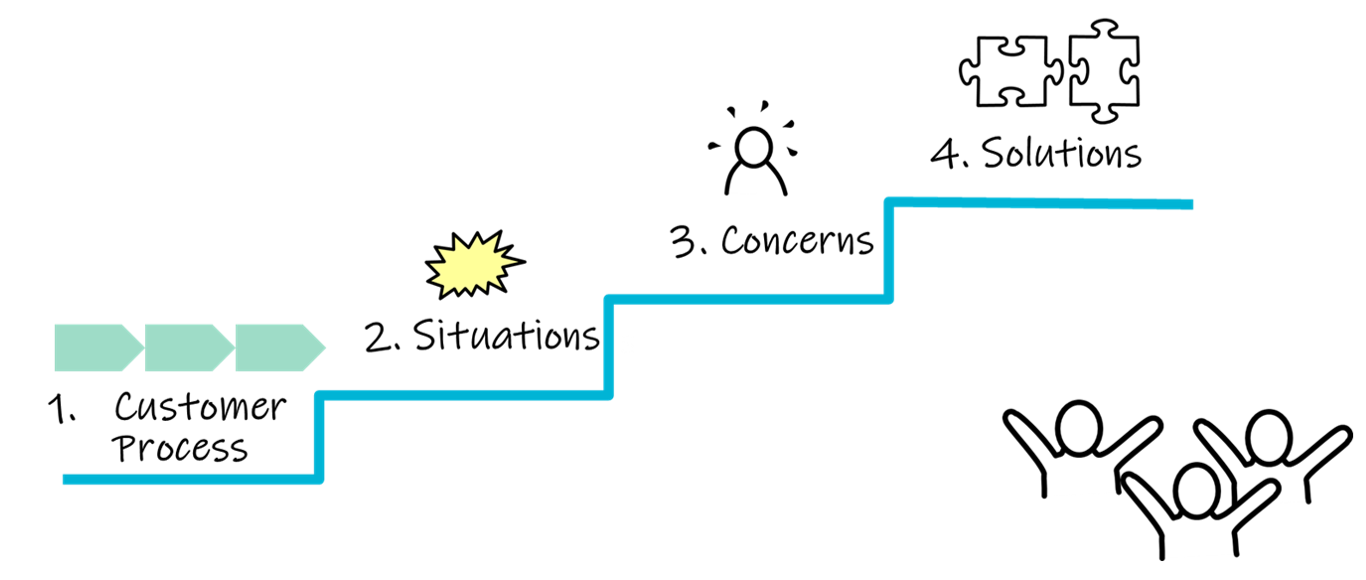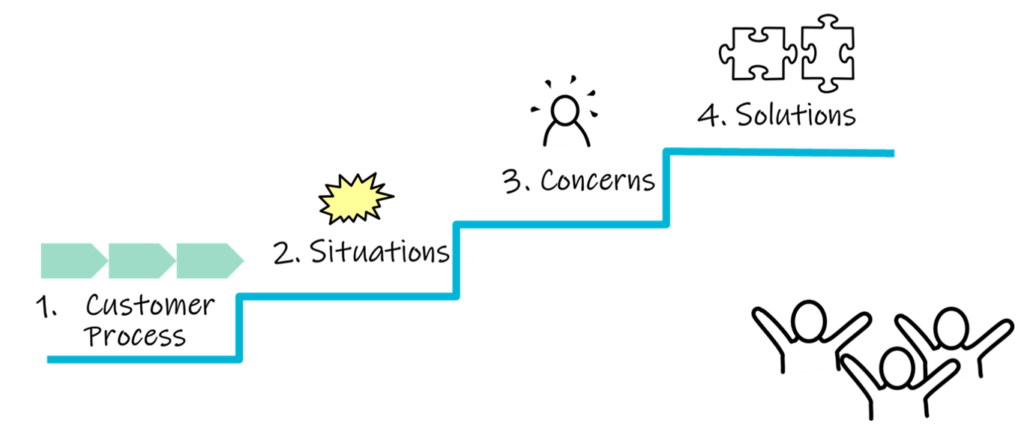 The logic is the same for the whole process as a simplified version. Back in the old days, we used to hold five full-day workshops to create the Zipper model. Now we can do the whole thing in a fraction of that time. Logically, we always begin with the customer's process. Once drawn into a picture, situations get identified and appropriately assigned to the correct spot in the process.
It's tough to get the staff to jump into a customer's situation. They always return to their side of the process and begin to think about what their goals are. That's when I say: Forget about your world for once!
Jump into our customer's shoes and begin to think about what the situations are. It's not easy at all to give them names. It's pretty demanding but doable when editing comes into the picture. When the situation is clear, it is possible to think about the worries. A professional can easily help to identify 10-30 worries per situation.
When you have identified the worries, choose one of the solutions and think of a situation that it applies in. When there are many situations, the solutions form a puzzle. The customer might be lacking one piece of the puzzle, and that's why they aren't able to get the complete picture of their situation. As professionals, we can help them out.

Speaking from experience, I can say that one Zipper workshop can deal with as many as 200 worries. During the workshop, customers (who participate in the workshop!) get asked if they recognize these worries. Every single time they answer: "Yes, that is our world."
Professionals know a great deal about the customer's world. Still, when the situation gets visualized with pictures, the customer realizes they can't handle it alone, and they ask a professional for help. And when you understand the customer in-depth, you are the professional.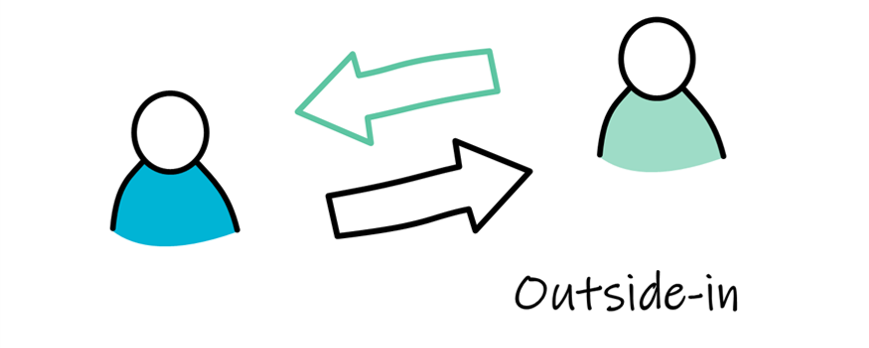 Understanding the customer in-depth
Even the best professionals will have trouble addressing things they have never thought of before. A lack of awareness causes issues for the professional. Nobody can throw out 30 worries on a whim. When the worries related to the various situations get drawn into a clear image, the salesperson can talk about them to a prospective client and demonstrate that they can help the prospective client solve the various issues.
Sales take place once both parties agree to do something. To get deals, you must be able to demonstrate you can provide a concrete solution. If you work from the zipper model, you will have a powerful tool at your disposal. Thanks to this fact, I strongly encourage you to build a zipper model for yourself. If you want help with this, feel free to reach out to us. We are more than happy to help you build one as fast as possible. It's a faster way to results than doing the R&D on your own.
Understanding the customer in-depth is the key to success!
Finding Us On Social Media
Stradigo is a brand owned by Rdigo Oy (Business-ID: 2120844-1).
Learn more from our Imprint.
Rdigo Oy is registered in Finland as a Limited company. We are a strategy consultancy located in the Helsinki capital region.
We've been in business since 2007. The company name comes from the latin word Redigo, meaning both 'I shape' & 'I renew'.
Stradigo combines the word strategy with Rdigo.