The Strategic Core Questions Customers Deal With — 5.04
One hallmark of a strategic core question that it deals with a high-level topic. What do customers really want from us? Wouldn't it be nice to understand what it is and to make the entire staff internalize the core issues? The exercise I will soon reveal is quite powerful. You should involve your whole group to take part in it.
Customer's strategic core question


In practice, it's very hard to get people to think about matters from the customer's point of view. It's too easy just to focus on selling products and services because that's what our work essentially is. We think inside-out, even though we know well enough that we should approach things from a customer-oriented perspective. 


How could we get people to work outside-in? Let's begin by receiving the customer's question first, and then we explain how the issue is solved. Very simple, but oh so difficult!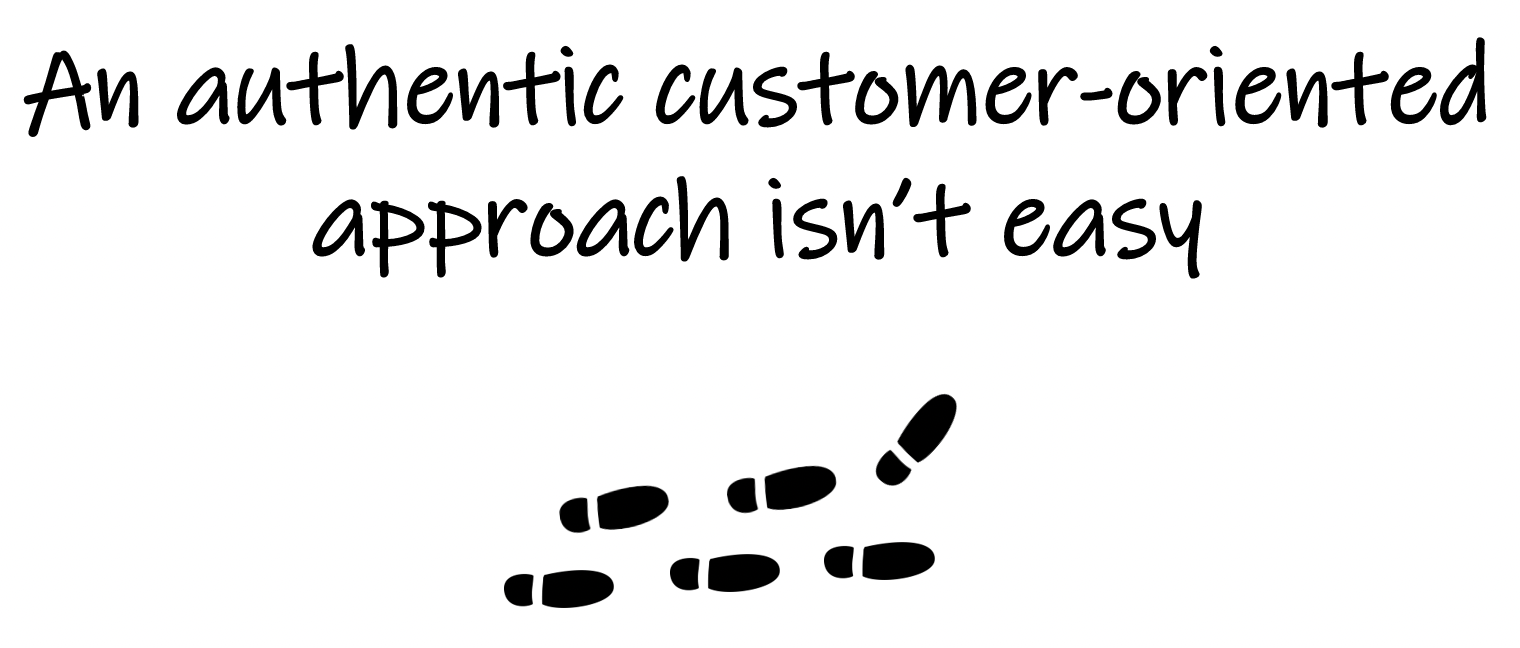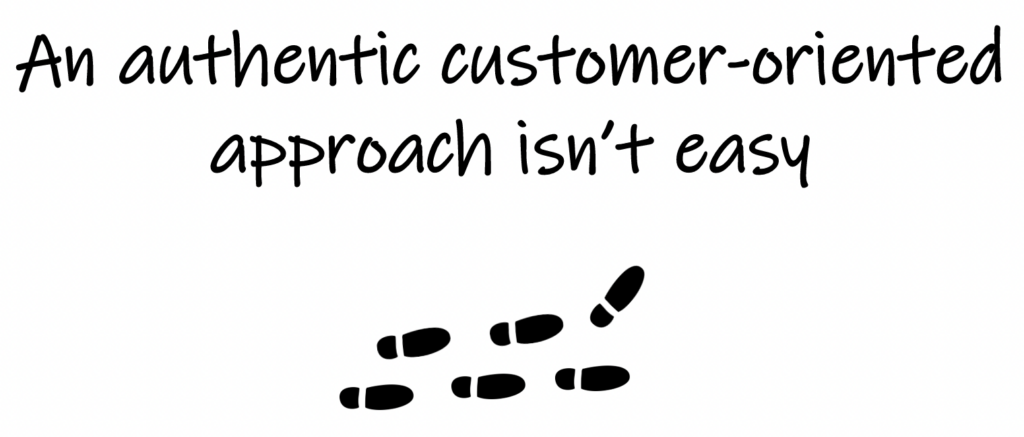 An authentic customer-oriented approach and deeply understanding isn't exactly easy! People have been working with the customer-oriented approach for a very long time. Yet, now just talking about a customer-oriented approach is not enough. Words must actually translate into actions. It's time to take the next step. Yet, the question remains. What does a customer-oriented approach look like in practice? This question can be remedied with the following exercise. 
What are the customers' TOP3 strategic core questions to us?


First of all, let's think. What are the three core questions our customers ask us? They are high-level (strategic) core questions, which don't necessarily have the appearance of concrete worries. It's a question like… What are the customers asking about? If you and your group can figure out an answers, wonderful things will happen in your organization!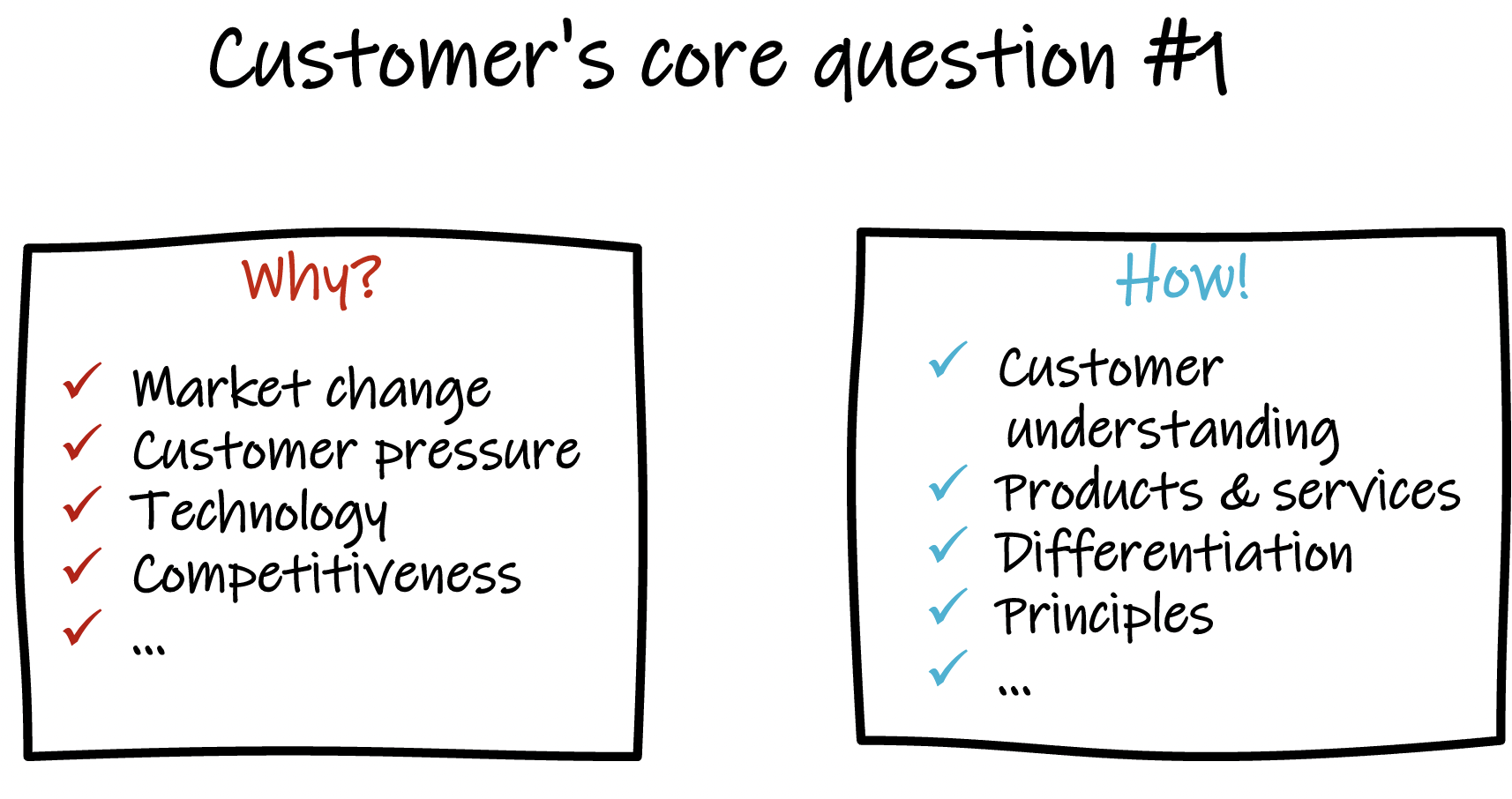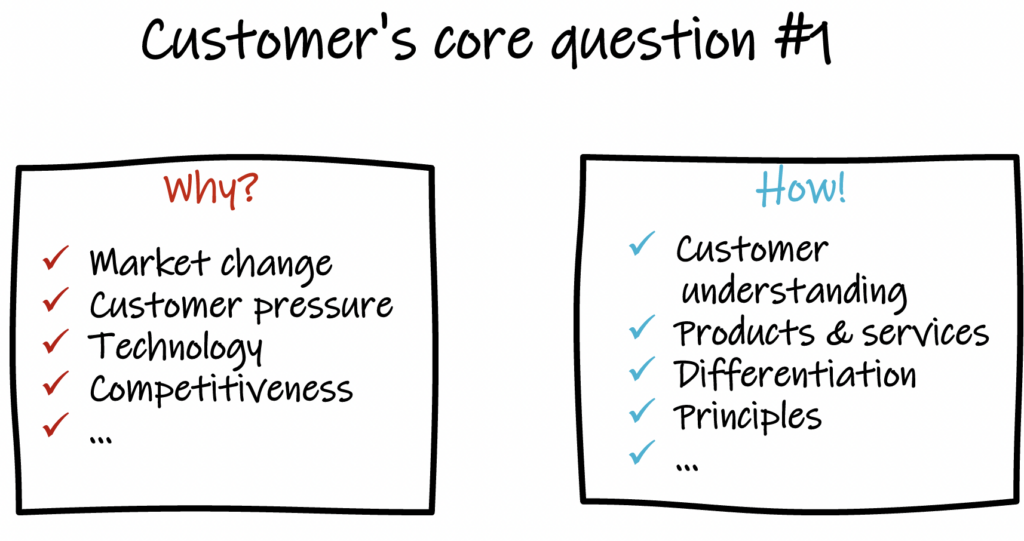 This is how the exercise goes: First you write the customer's core question in the header. The two boxes will be filled with text. The first box is called Why? and the other box is called How? 
Why? In this situation why stands for the reason causing market pressure. What is the logic, the rationale, that is improved through actions? Often these things have to do with changing market conditions. A need must be answered. The customers are likewise experiencing their own customer pressures (in a B2B space). 🙂 Demands may include things like sustainable development. But pressure can also come from the owners, for example better results or profitability. Technological change also brings with it another set of challenges on top of the previously mentioned ones. Competition also exists, which need to be taken into account. At a fundamental level this is comparable to an arms race that is decided by who can be the most efficient and the fastest while delivering the best possible result for the customers. Cherish your competitiveness and take care of it lest you fall behind. 
Make your group think about this very important topic. What is the market situation and why must we act? Your organization can reap huge benefits by finding answers to these questions together, even if the questions are obvious. 
Box number two: How do we respond to the identified market pressures? 
Think about this from your perspective:
The second box is filled with issues that can help us better help our customers. What is our answer? How do we understand the customer's situation? How do we act? What kind of services and solutions should we provide for the customer's needs? 
Differentiation is a challenge. We really need to sit down and think about how we are different from our competitors. Differentiation is most times quite difficult because everyone copies each other fast. And even if we think we're better than our competitors, we necessarily aren't. It can be an optical illusion. They are smart as well and think a lot, and do everything they can to take our salary payments. Ouch! 
Lets once again consider things from my perspective:
Differentiation should be in the details. I have spoken a lot about my sun model, which is utilized to list several points to differentiate in.  
Let's look at this from your perspective:
But what is the principle through which we differentiate? The boxes in the image above only fit the principles, the high-quality how-questions. How do we operate in practice? We might need a new Game Book to write our changing operation models into. 
Let's look at this from my perspective:
As I write this, I held an exercise with an IT unit. IT is difficult in a sense because they easily go and blame the company and their own customers. Others don't necessarily understand IT. I told them to stop the blaming! If an idea to blame someone arises, take note also of your own behavior. How could you have spoken so, that the other person would have understood? Don't point with your finger, your thumb is always pointing back to you. You can't change others, but you can change yourself! 
When the two boxes in the image above are filled with thoughts, it creates a page for each core question. Write 7-10 bullet points, no more.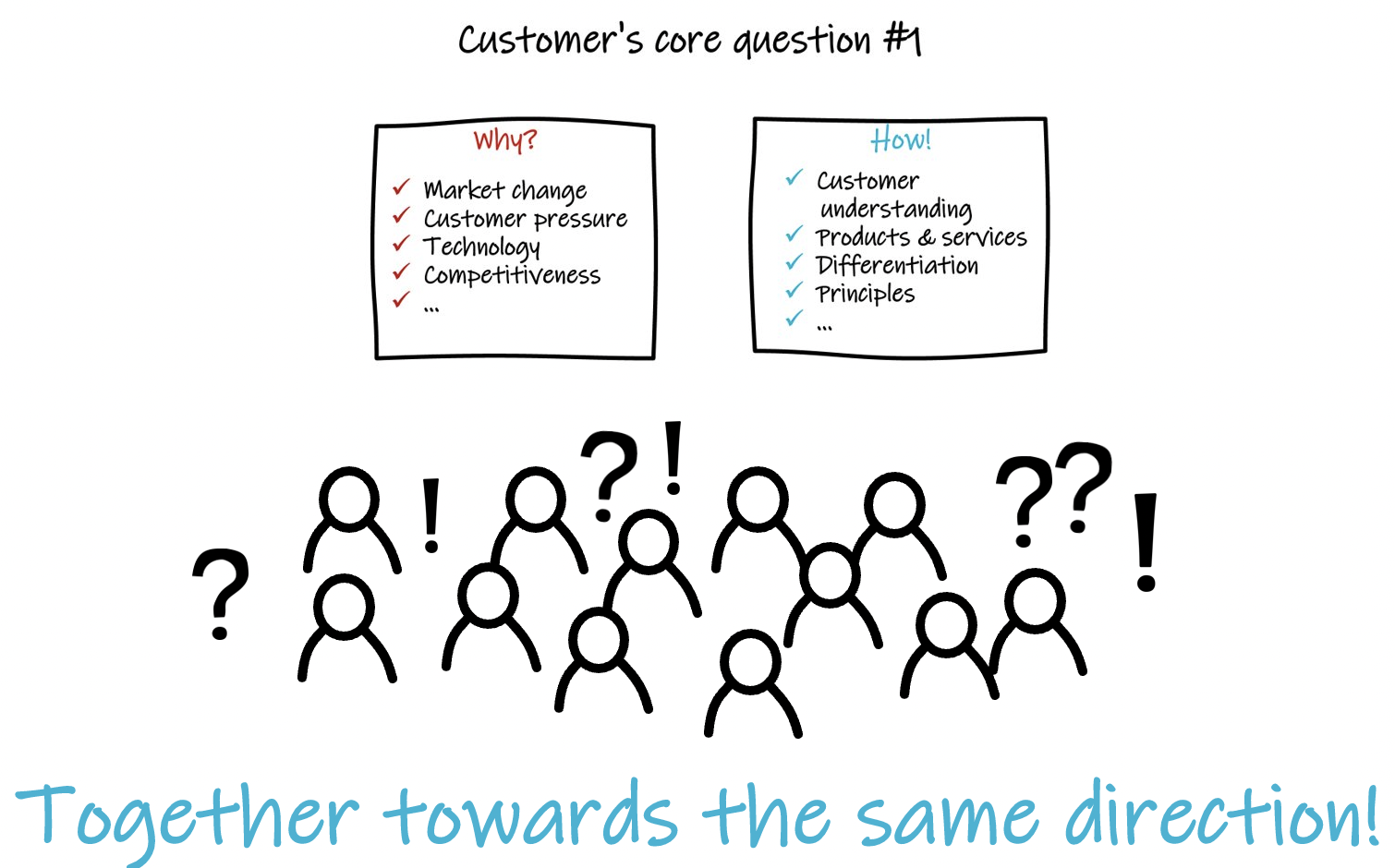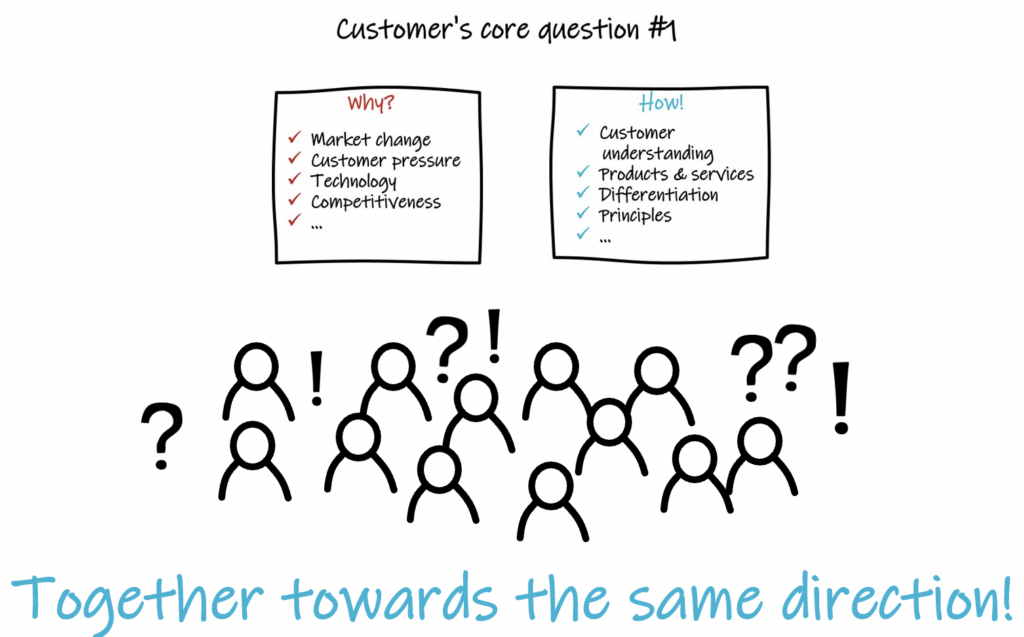 Do this work together with your team. We did the same exercise today during an online meeting. This is a very healthy exercise! It creates a feeling that issues are clarified. Even if these are familiar subjects, you can rest assured people have different visions about the world around us. The point of the exercise is to get your whole group to go in the same direction. It's surprising that we edit our words so in detail. Words have meanings and better words are better. Words indeed still are the best weapons. 


Let's look at this from your perspective:
When we do this exercise, we should also know how to challenge ourselves.  
Let's switch back to my perspective:
A third party is often good to include in the challenging process because they know to ask questions one wouldn't otherwise come to think of.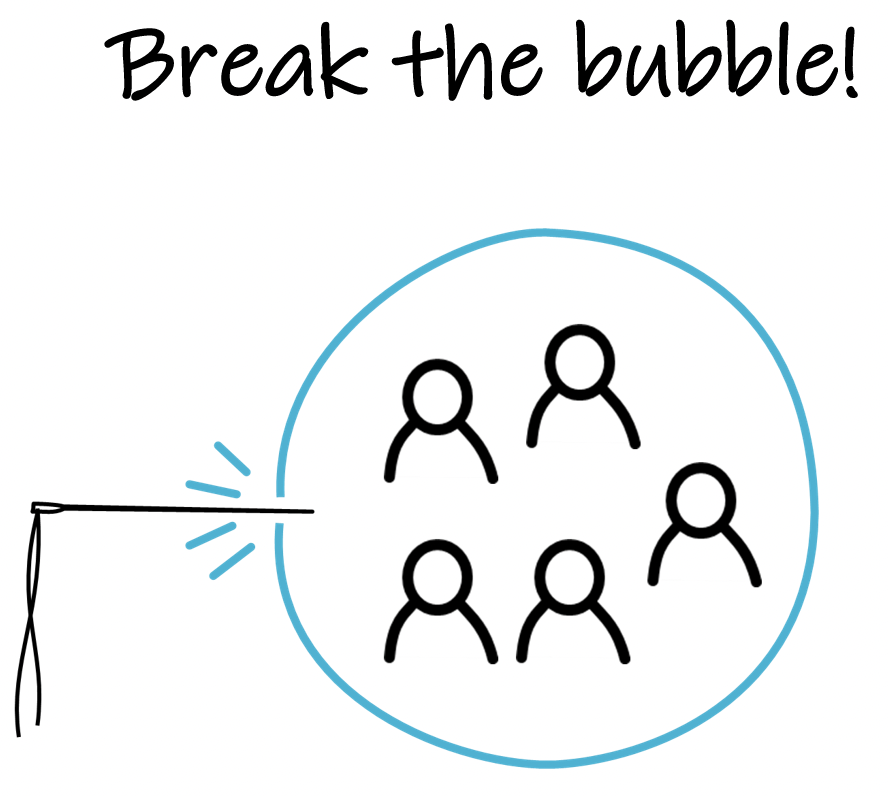 Let's look at this from your perspective, while talking from mine:
We all have our mantras. Each and every one of us lives in our own working environment, which creates these mantras and beliefs. Break the bubble with good questions. If challenging is done wrong, people only get upset. That's a talent to practice. 
Let's look at this from my perspective:
Not so long ago I also ended up in a bad situation because I didn't know to challenge as I should have. This led to everyone getting upset. I chose the wrong words, but luckily this case was only one out of 150. Challenging is difficult, and once again I learned something new! I really had to contemplate the situation personally.  
Now I am addressing you, the reader:
Break the bubble, my friend. Try to see if there are new opportunities!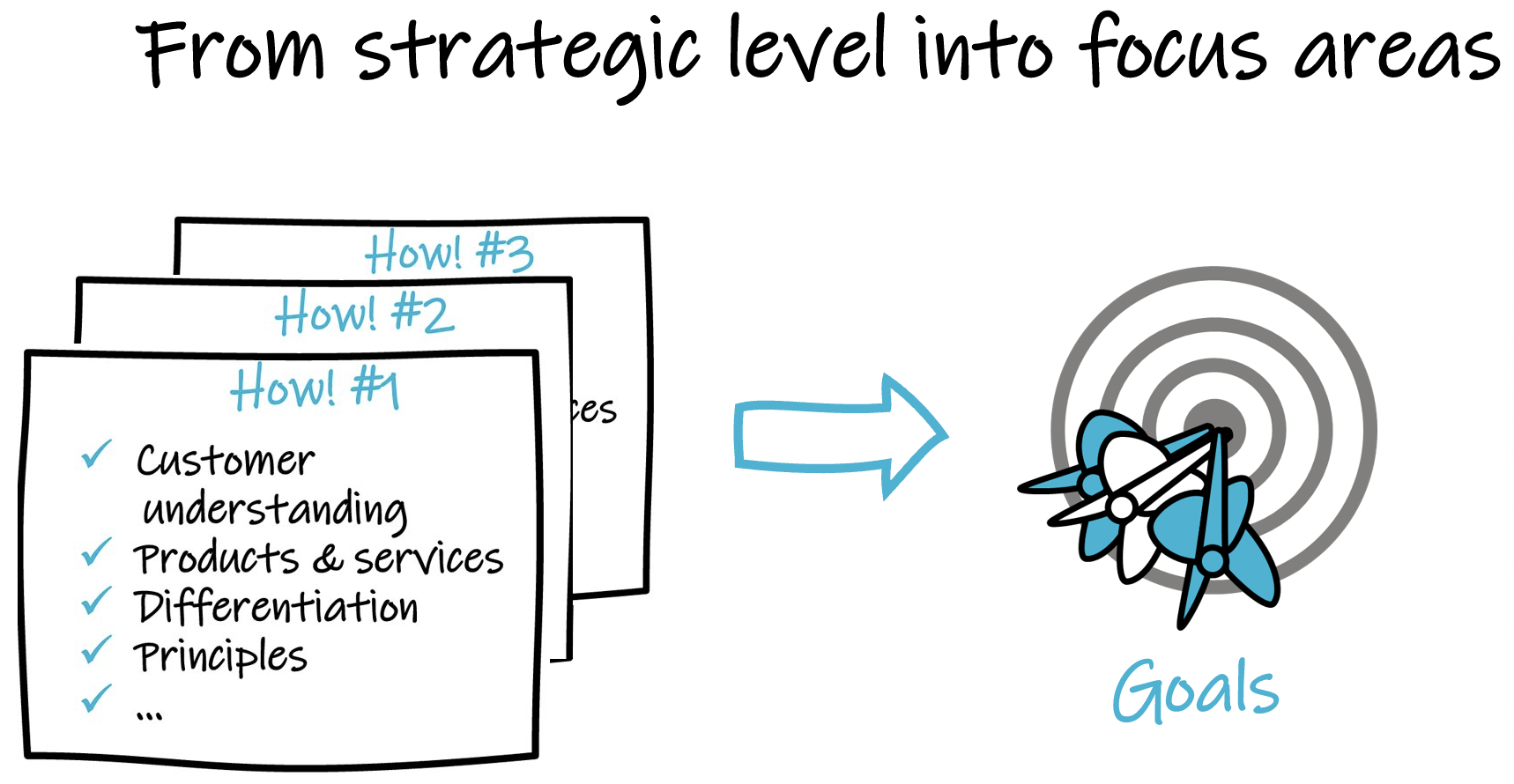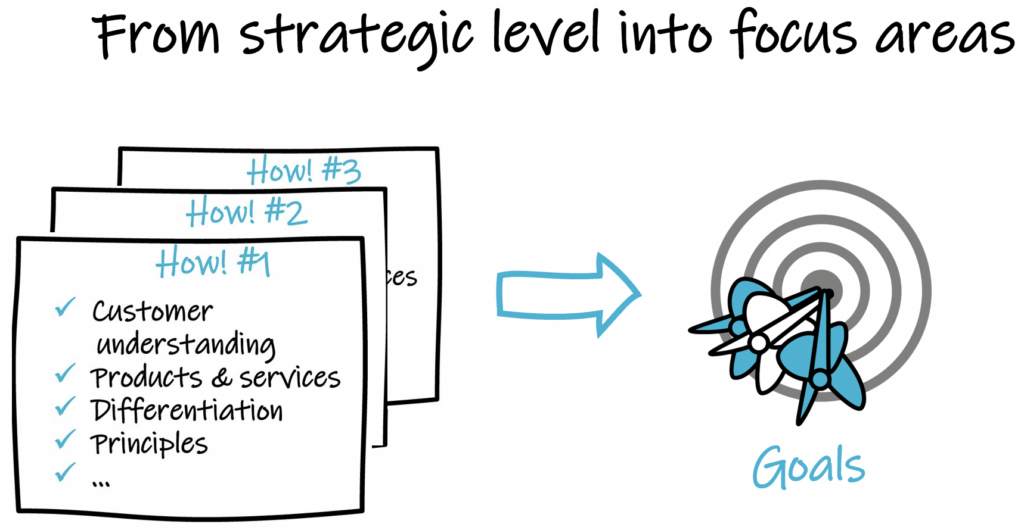 HELP! WHAT IS GOING ON?!
The next step is focus areas. We have created three pages with very important points. One page usually forms during one workshop. I no longer hold two-hour workshops, 1h45min instead. Distance working needs a 15-minute break before the next meeting. Hence 1h45min per page! 
We held the first workshop yesterday, and today as we proceeded to the second meeting, we received a comment 
"Now I'm starting to understand what happened yesterday!"
It might be that the issues inside the boxes are obvious, but it takes time to really comprehend them! We live in our bubble and culture that has formed. Breaking the bubble is an artform! 
Recognizing the focus areas is the next phase. I tend to crystallize the needed change into three focus areas, which are followed by two to three big breakthrough goals. We have suddenly hopped down from the helicopter perspective into the concrete world. 
I can assure you, that the concrete actions and goals that have formed during this exercise aren't the same as if you looked at your goals without the upper-level perspective. It can be a clear difference. Because this exercise doesn't require investing many hours, I claim this is a delicious and useful investment. It takes people in a common direction. Our culture can consist of many big bugs, or soft spots as I call them, and this way they are exposed. It can create better goals. 
This is my motto: 


Having your head in the clouds means that we are at a strategic level. We need to get back down to earth, into the concrete world. People are so used to thinking about concrete things daily, that one must almost force them (in a positive way) to rise to the skies. From that perspective, you get a different view of reality. If all you do is stay on the ground, in everyday life, it easily creates a narrow perspective. This is Markus's motto.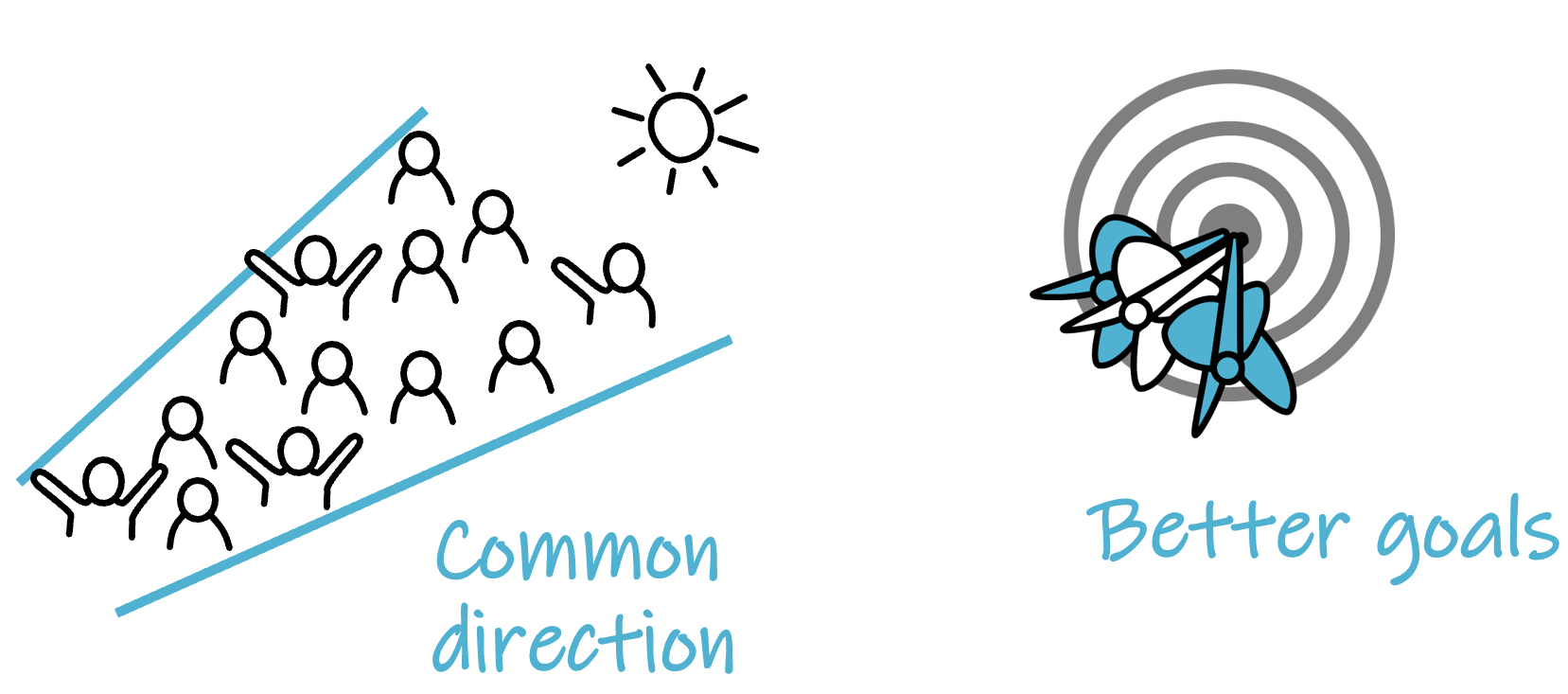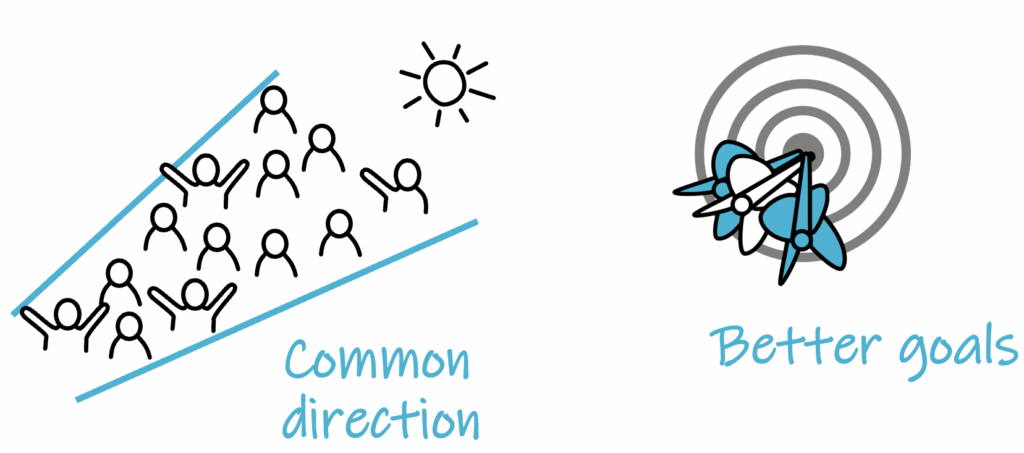 The first point of this strategic core question exercise is to strengthen the common direction. The conversation it creates is fruitful. We always receive positive pulse comments, such as
"Today we got new perspectives!"
One perspective might be the customer perspective… 
Point number two: You can get better goals. When they are implemented, you get a more successful business. Normally, goals are broken down into actions, which are followed during strategy implementation.  
Try this exercise and include a third-party facilitator! 
Finding Us On Social Media
Stradigo is a brand owned by Rdigo Oy (Business-ID: 2120844-1).
Learn more from our Imprint.
Rdigo Oy is registered in Finland as a Limited company. We are a strategy consultancy located in the Helsinki capital region.
We've been in business since 2007. The company name comes from the latin word Redigo, meaning both 'I shape' & 'I renew'.
Stradigo combines the word strategy with Rdigo.