Cultural Differences Between Finland and Sweden — 2.08
Even if your business has no connections to Sweden or Finland, it's very useful to understand the cultural differences between both countries if you wish to understand more about the Nordics. Swedish people excel in certain things, which might be worth imitating to a certain extent over where you are. Let's look at the cultural differences between Finland and Sweden.
I used to live in Sweden when I worked at Nokia. At the time, I also got to know Anita Ekwall, who is as of this moment still active in the professional space. She can be considered a veteran of her field of expertise. She was the one who introduced me to the cultural differences between Sweden and Finland.
It's surprising how often things go wrong just because people in Sweden and Finland don't understand each other. Globally, we share a lot of similarities in the culture with the Swedes, yet it is very surprising how many cultural differences we have on top of the similarities despite being neighbors.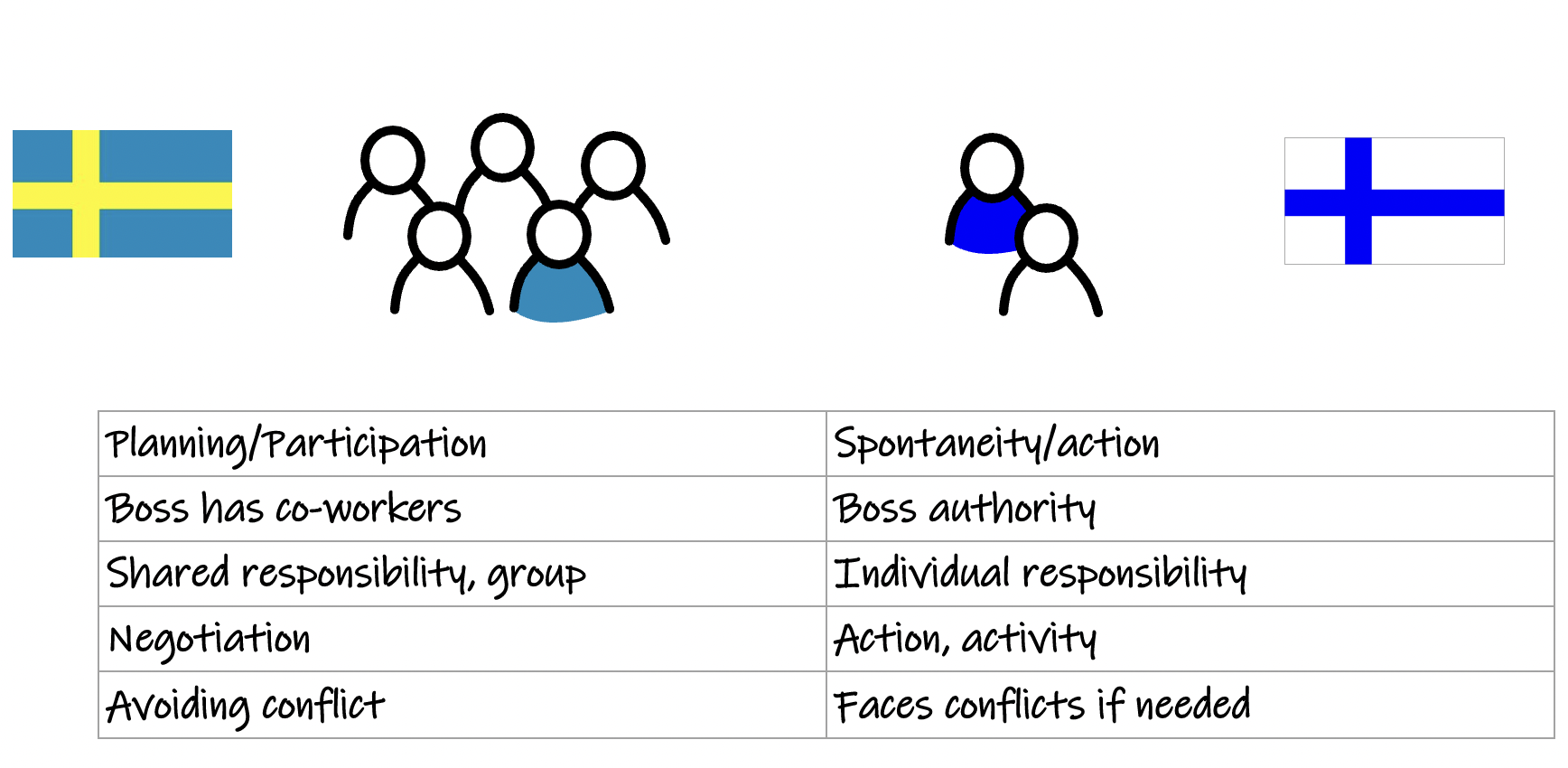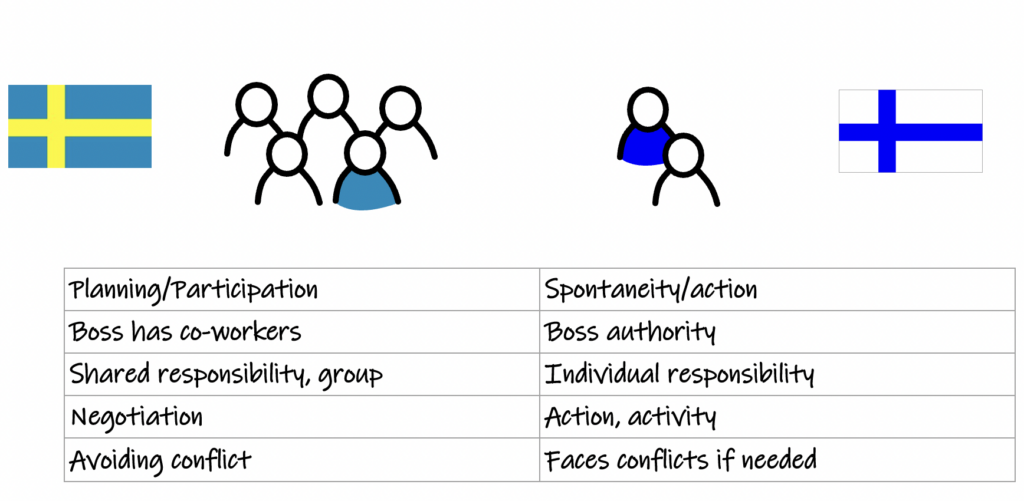 When we're talking about cultural differences between Finland and Sweden, one worth mentioning is planning. Swedish people love planning and, in particular, participating in the planning process. Swedes love to work in groups and to share responsibility together as a group. In Finland, we want action and spontaneity. 
In Sweden, the boss has co-workers, medarbetare. The Swedish co-workers are very friendly and fearless towards bosses. In Finland, everyone knows who's boss. Finns love individual responsibility, while the Swedes love group responsibility. 
The way Swedish people discuss during meetings seems far removed from how we Finns do things. We Finns don't want to invest the time that is needed for long discussions. Swedes want to discuss until everyone understands why something needs to be done. Finns, however, want action. And they want to do things quickly. A Swede will try to avoid conflicts until the very end when a Finn will take the bull by the horns as quickly as possible and get it over with. 
These cultural differences between Finland and Sweden are pretty big, surprisingly big for many of us. When we act together, Swedish people should understand our customs and Finns should understand theirs. Neither of us can change completely because of our personal background, culture, personal history, etc. We can however respect and understand one another, where we come from, and not get offended if things do not quite go the way we by nature expect things to go. If we can learn from each other, our business can take flight in situations where there are co-workers from both cultures within the same organization.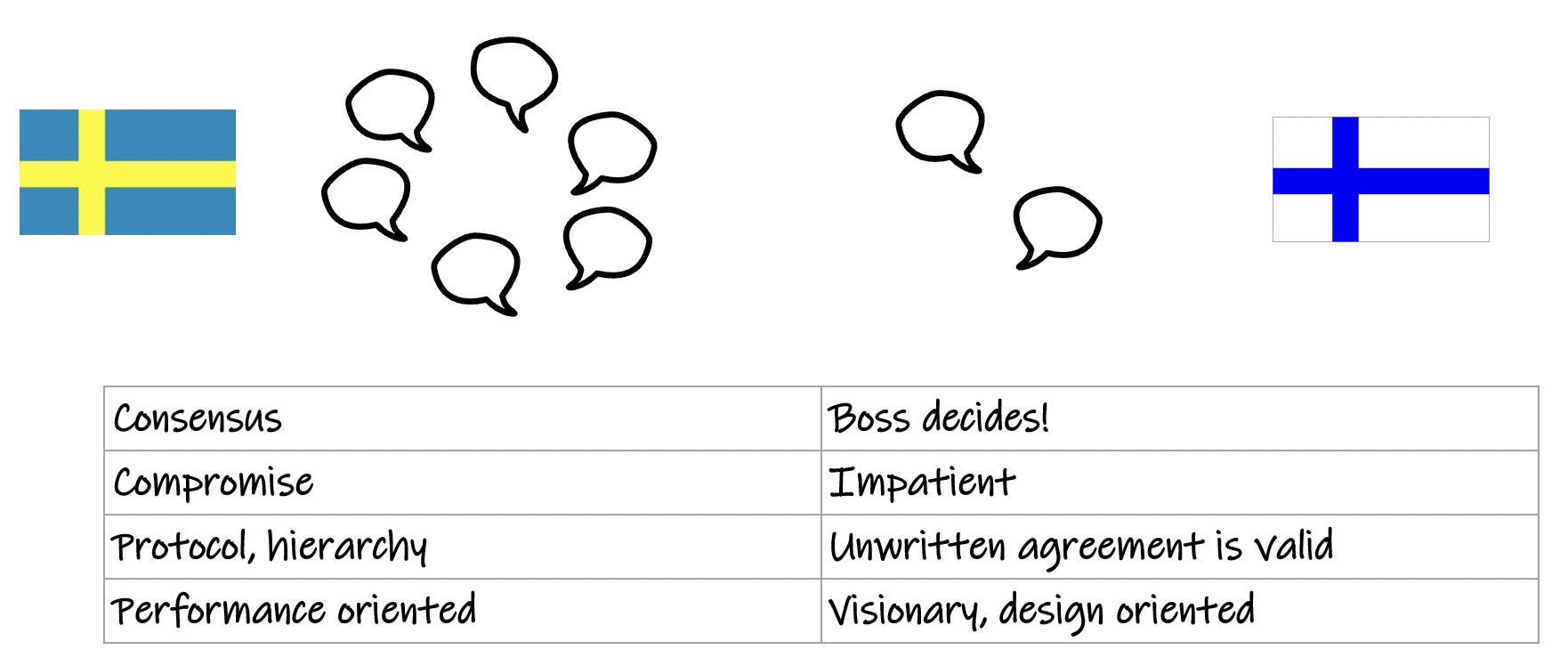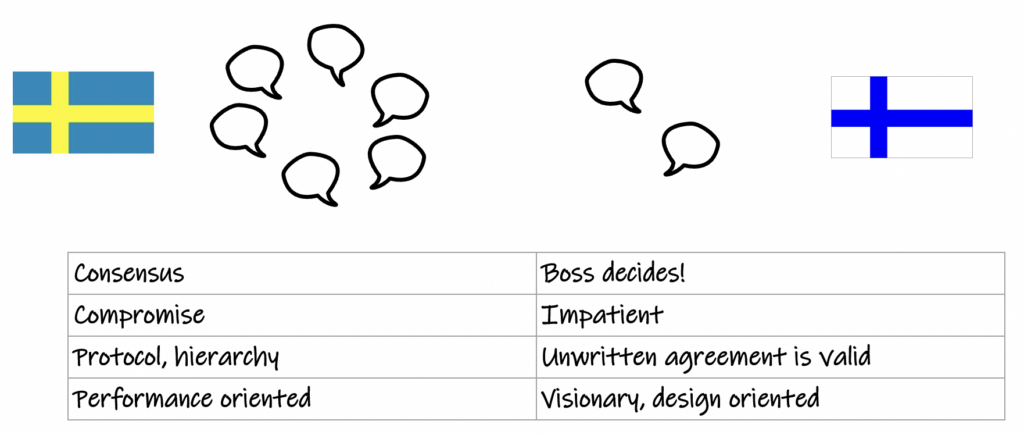 In Sweden, a decision is made by reaching a consensus. In Finland, the boss gets to decide. The Swedish approach also can be criticized. The Boss might know immediately what they want, but they won't go and tell everyone. The boss first collects their group and becomes insured that everyone understands why a decision must be made and why the direction is what it is. Then the boss listens to the others and gathers information, which might improve the decision. It goes without saying that not everyone in Sweden is of the same opinion, but they accept the decision when they know the background. And (surprise surprise) everyone gets down to business immediately when consensus has been reached and the go-ahead is given by the boss.  
Finns are impatient and can't stand to discuss, we want a decision. Our problem is that if people have not been heard, they become irritated and implementation won't happen, even if the decision was made quickly. In fact, I believe that the Swedish way is often faster. In Sweden, implementation happens immediately, when in Finland it's inadequate. The Swedish leadership model would be a great supplement to the Finnish approach. 
To be precise, Finland has changed a lot in the past ten years. We have learned to listen, to share our backgrounds transparently, and to make decisions together. Many organizations ask the whole group to set their goals, instead of proceeding top-down. The result is much better this way. Many people would never have the guts to set goals as high as one can with a bottom-up approach. 
In Sweden, it is, however, important to follow the hierarchy. It's surprising, considering that they are all such co-workers. A Swedish boss might get frustrated if someone surpasses them. In Finland it's not so dangerous, so let them! The main thing is that everything works.  
Of course, Swedes want results and they will get them.  
According to Anita Ekwall, Finns are visionaries as individuals. Design runs deep in our culture. I don't know if I completely agree, because I believe the same applies to the Swedes. Maybe there's a difference in nuance. People understand things differently, even if they use the same words.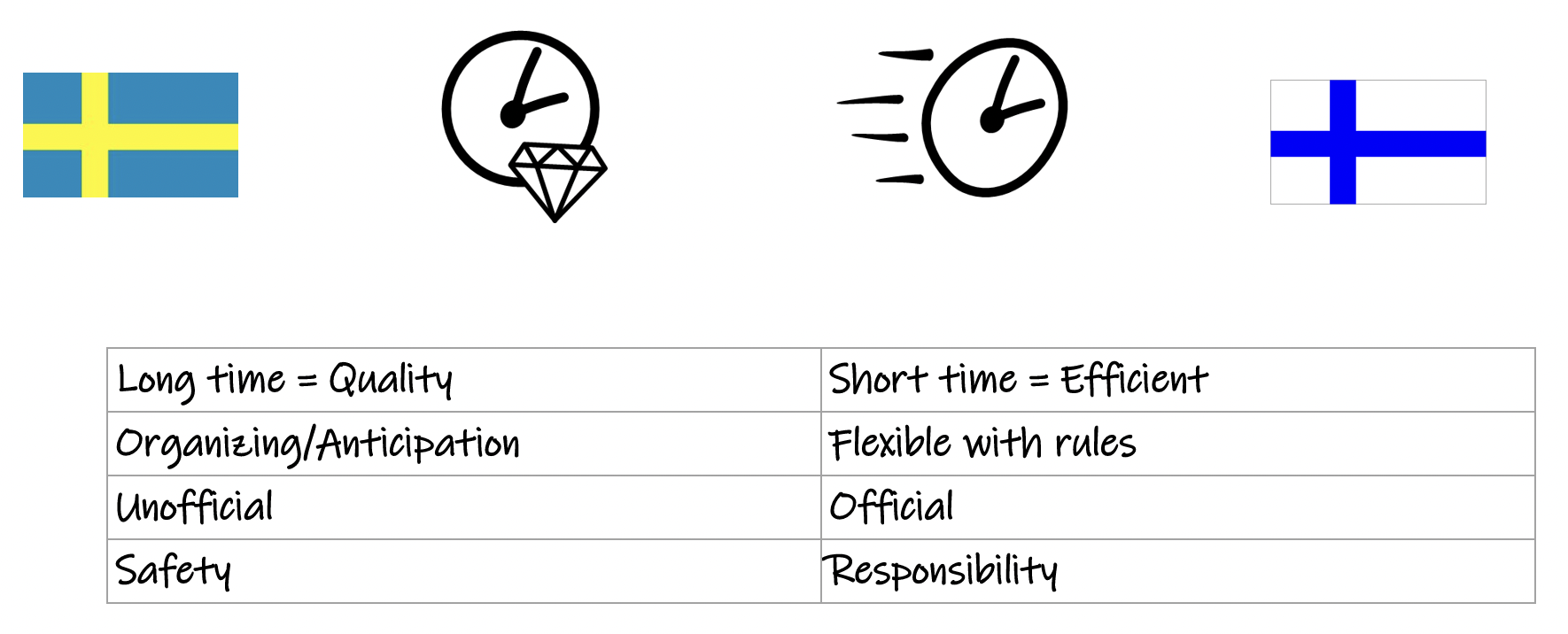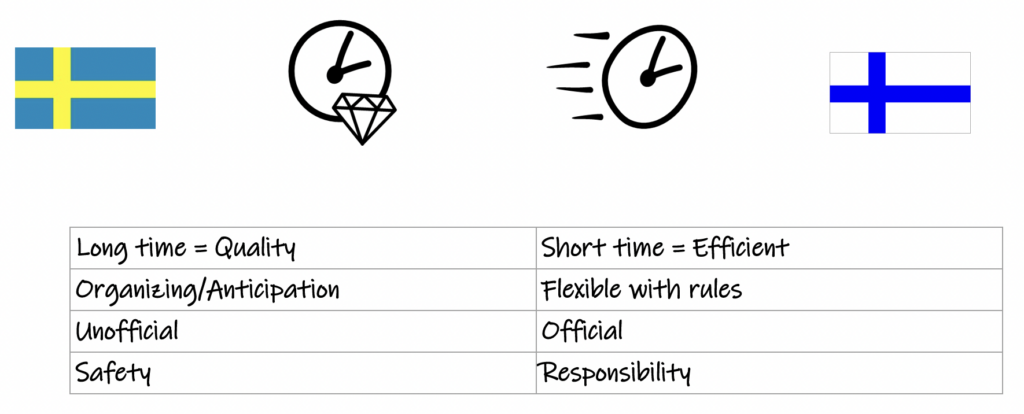 Many misunderstandings happen in our everyday lives as we work together. First of all, our relationship with time is different between us. From a Swedish perspective, time equals quality. This can, of course, be true. In Finland, however, efficiency is important, and that is why decisions are made quickly. 
If a change of plan happens in Sweden, it's a big thing. In Finland, people are flexible. If a decision is wrong, it is changed. In our minds, this is efficient. It's an agile culture.  
Swedes need time to anticipate what's going to happen next. This is why Swedes reserve time in the calendar long in advance, in a way that may seem almost ridiculous from a Finnish perspective. Why can't things take place faster? Cultural differences.  
During my time in Sweden, I learned that if you, on a Wednesday, invite your neighbor for a barbeque and beer on Friday, you might subtly be insulting the Swede. This is because you are, in fact, expecting your neighbor to be free on Friday as if they would have a lousy social life. Of course, the neighbor will come. But they will first let you know that they need to rearrange their calendar. It would be advisable to give them a two week's notice. Then it's not embarrassing to have an empty calendar. 
Framförhållning, meaning anticipation, is longer in Sweden. We're flexible. We have a one-hour warmup, just enough time for the sauna to heat up! It's funny that it always takes an hour for a Finnish crowd to warm up. We approach new situations by observing. In Sweden, situations are always approached through discussion. It's funny to us Finns because Swedes are very friendly from the beginning. To a Finn, however, it might feel like they would have known the person for 10 years. It might dawn on the Finn that this indeed was not the case.  
Everything is very informal in Sweden. Differences in hierarchy are frowned upon, whereas we Finns prefer formality. The thing that bugs me is that company hierarchies are somewhat concealed in Sweden, even though they very much exist. 
Also, Swedish people don't do well if a situation is unsafe. In Finland, operation continues even if there is a lack of safety. Finland did experience a World War, while the last time Sweden was actively involved in a war was at the beginning of the 19th century. These differences in experience have undoubtedly had an effect on both countries and the people in them.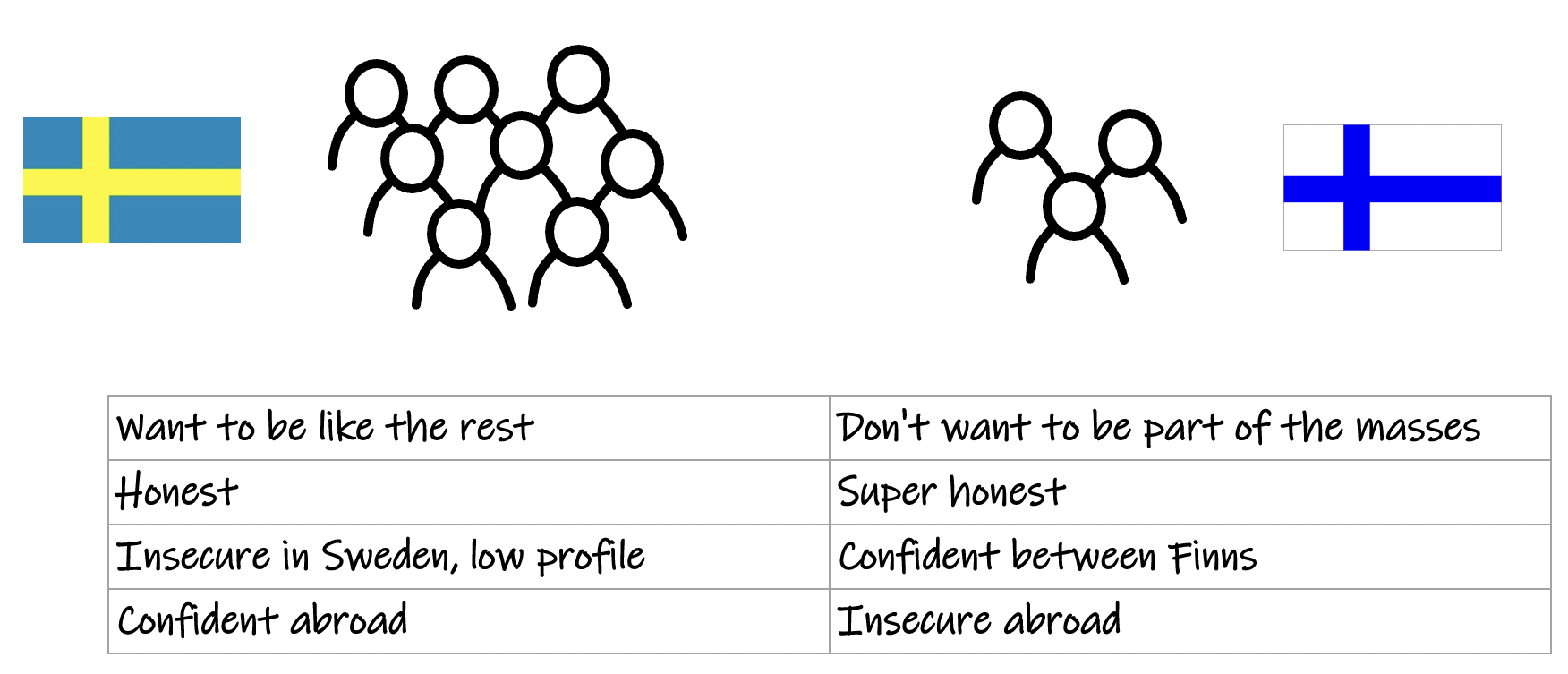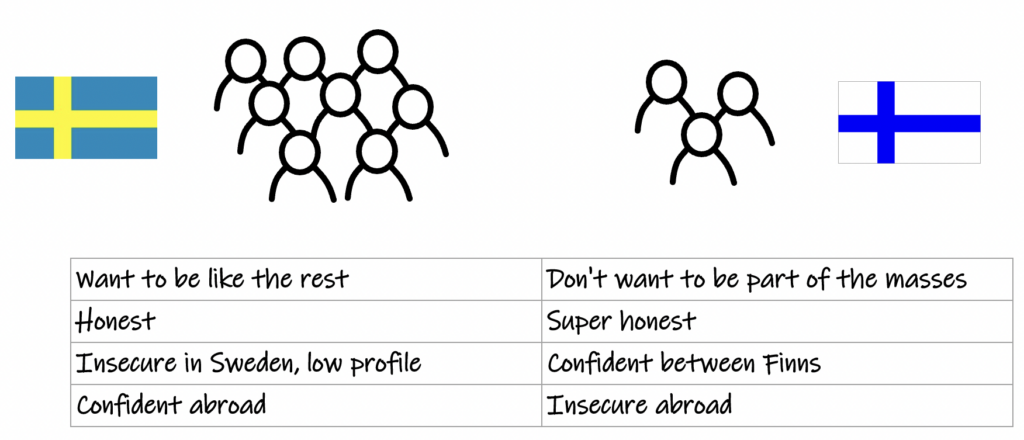 But there are even more differences that matter. The last category of cultural differences between Finland and Sweden is about social encounters. For example, a Swede wants to be like the rest, a Finn doesn't want to be a part of the mass. For example, if you ask a Swedish person about what typical Swedishness is, they will find it difficult to answer clearly. Again, if you ask a Finn the same type of question, it may not take that long for the Finn to shout out something along the lines of… Sauna, Sibelius and Sisu. This is a hallmark of a younger nation. Things are way more pronounced. Sweden, on the other hand, is a much older nation, it has even been a superpower back in the day. A great nation with a great history with many great achievements. Things just appear different from this type of perspective.   
Finns are generally very aware of their identity, and naturally, it also means that the club of Finnishness has gotten a spirit of exclusivity around in the minds of many people. It's emphasized and promoted passively in different situations. There are naturally always exceptions to everything. These are not natural laws after all.  
When a person from a stronger Finnish background goes abroad, they may appear insecure, because the environment is new. While at home there is a ton of confidence, on the other hand. It seems to be the reverse among people with a stronger Swedish background. Things are much more low-key at home, while there is a lot of confidence while abroad. This confidence means it is very easy to start a conversation, which inevitably leads to very profitable export agreements. Finnish society could benefit from having a bit more Swedish flair in its international dealings.  
Involve everyone
Perhaps it's time to make some conclusions, and pull all of this together into a summary, of sorts. Let's involve everyone so that they all understand why something needs to be done. This is what we do at Stradigo. While working with clients we involve everyone in the strategy process with digital technology and by crystallizing the strategy together. As far as I'm aware, this technique has not been mastered by the competition in Sweden, so there is a window of opportunity of sorts, for the time being. 


No one can change their background. So, let's be safe and proud of who we are! That being said, we can, however, benchmark a bit and see if we can adapt good practices from elsewhere, Sweden in this case. Language barriers naturally play a significant role in this, while English cannot bridge this gap fully. To truly bridge the cultural and knowledge gap one would need to have insights into the native tongues, at least if one desires to make a deep dive and get the gold that lays on the bottom of the cultural swimming pool.
These are the cultural differences between Finland and Sweden. Hope you found this blog informative!
Let's increase our common understanding, speak languages, adapt and learn from each other, and let's not be too stiff in our operations! Read more.🔥
Finding Us On Social Media
Stradigo is a brand owned by Rdigo Oy (Business-ID: 2120844-1).
Learn more from our Imprint.
Rdigo Oy is registered in Finland as a Limited company. We are a strategy consultancy located in the Helsinki capital region.
We've been in business since 2007. The company name comes from the latin word Redigo, meaning both 'I shape' & 'I renew'.
Stradigo combines the word strategy with Rdigo.